Creativity during pregnancy
A music program combined with scientific evaluation by the Clara Angela Foundation in cooperation with the Foundation of the Berlin Philharmonic Orchestra 
Time for application extended! (see Start of the project)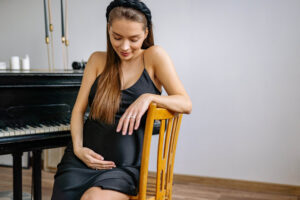 Aim of the project
Recent studies have demonstrated that beautiful experiences during pregnancy can help pregnant women to reduce stress, to increase psychological resilience and even to support the health and development of the child. During the Corona pandemic, conscious or unconscious feelings of stress may have accumulated that could affect mothers and their infants. Therefore, a team of competent obstetricians, scientists and caring artists now offer music programs and creative workshops for women during the whole course of their pregnancy.
The Foundation of the Berlin Philharmonic Orchestra provides space and creative expertise for this project. From the start of pregnancy, concerts are offered in the exhibition foyer of the Chamber Music Hall on Saturday mornings at four-week intervals, tailored for pregnant women and their children. Creative workshops take place at 4-weeks intervals mostly on Friday afternoons, including movement to music, singing and gentle dancing. Children in the womb somehow realize their mother's wellbeing from early onwards and can already hear the music at around 20 gestational weeks which all supports their later mental development.
The program
The programs for the concerts were selected by musicians* of the Berlin Philharmonic Orchestra coordinated by Raimar Orlovsky (violin). Each woman will also receive a CD with music by Wolfgang Amadeus Mozart to relax at home.
For study participation dates please click here!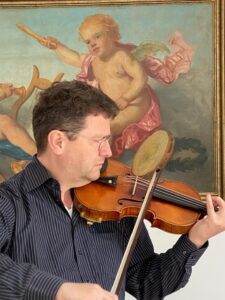 Raimar Orlovsky
Audio examples of the CD: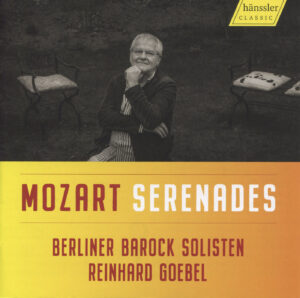 Accompanying text of the compact disk as PDF.
The courses include:
Movement to music accompanied by the music educator Prof. Christine Straumer.




Prof. Christine Straumer

Singing: This workshop is about experiencing the joy of singing and perceiving the body as an instrument. By dealing with your own voice, resonance and breathing, body awareness and well-being are strengthened. Even sung melodies and songs connect mother and child through the sound of the voice during pregnancy and thus become companions in life. You will be accompanied by the musicians and singing teachers Nina Lahme and Michael Zlanabitnig.




Michael Zlanabitnig and Nina Lahme



Slow dancing accompanied by dancer Rosemary Neri Calheiros
to have fun and similarly evoke some intimacy within the young family.


Rosemary Neri Calheiros
The whole program starts on Saturday, September 18th, 2021 at 9:30 a.m. in the Chamber Music Hall of the Berlin Philharmonic at Herbert-von-Karajan-Str. 1 in Berlin.
Until the 3rd of October 2021 you can still enter this study.
Outside the regular music program, we offer deliberate alternative or additional creative courses at Villa Clara Angela in the Koenigsallee 36 in Berlin-Grunewald such as:
Creative writing: This had already been proven to help pregnant women cope with stressful experiences and has been further developed by Jutta Michaud, who accompanies the course.




Jutta Michaud, Foto: Janine Escher
Modeling: Here you can use clay to express ideas of the still unborn child, take the models with you and possibly show them to your child later. The artist Bärbel Dieckmann accompanies this course.


Bärbel Dieckmann 
In addition, there will be a deliberate possibility to observe how the child reacts to music during a 4D ultrasound examination.  
Who can participate?
Pregnant women from Berlin and the surrounding area before they have reached 15 completed gestational weeks by September 18, 2021.

Medical support and evaluation of the project
Before, during and after the courses short online questionnaires are provided to determine the maternal emotional state, the maternal heart rate variability and stress resistance are detected by a simple hand equipment and maternal cortisol is measured by a saliva mouth swab and a hair sample (at the beginning and end of the project only).
We also ask for consent to collect your data from the place of delivery, to determine stress parameters from the placenta and telomere length (a marker of your child's health) from the umbilical cord blood after birth. Some questionnaires can be completed online at your leisure at home. We would also be happy to accompany you after delivery and to send you questionnaires about your child's development online at 6 months and 2 years after delivery.
The Foundation of the Berlin Philharmonic Orchestra intends to document the project by sound and video recordings. Please inform us at the time of registration if you do not wish tob e involved.
There will be a professional Corona hygiene concept.
Integrating art projects into pregnancy is a goal of the Clara Angela Foundation, which will ensure that the data are anonymously evaluated. Finally, it may be important for all pregnant women to know more about the impact of artistic programs for parents-to-be and their offspring. Therefore, an experienced clinical team will accompany you on site and during the further evaluation.
Conditions of participation
Participation in this study is voluntary and free of charge. The concerts and courses of the standard program will take place in the exhibition foyer of the Chamber Music Hall of the Philharmonic Berlin. Optional additional courses or examinations such as 4D ultrasound take place at the Villa Clara Angela (Koenigsallee 36, 14193 Berlin), which is also easily accessible by public transport or car.
Will my personal data be treated confidentially?
Your personal data (first and last name as well as your date of birth) will be treated confidentially and stored pseudoanymously in accordance with the German Data Protection Regulation (DSGVO). At any time, you have the right to be informed about your data, the correction of data, deletion or restriction in processing, as well as the right to complain to the supervisory authority responsible for data protection.
To register, click here: (external link)
Contact
Dr. Elisabeth Schalinski
Email: kreativ@clara-angela.info
Project coordination
Prof. Dr. Birgit Arabin
Email: arabin@clara-angela.info