Creativity during pregnancy
A music program combined with scientific evaluation by the Clara Angela Foundation in cooperation with the Foundation
 Berliner Philharmoniker 
New registration opportunities in the 2nd year of the project (2022-2023)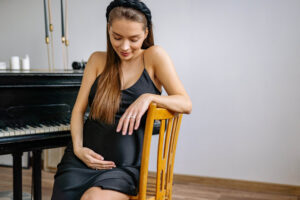 Aim of the project in the 2nd year
Studies have shown that beautiful experiences during pregnancy support mothers in alleviating possible worries, strengthening resilience and thus positively influencing the health and development of the child. 
At present, feelings of stress may still have consciously or unconsciously accumulated as a result of the Corona pandemic and increasing global conflicts with consequences for the climate and economic situation, which affect mothers and also the children during their vulnerable developmental periods. 
In addition, however, individual fears of a stressful history such as:
– A required artificial insemination, multiple pregnancy
– A previous pregnancy with an unfortunate outcome such as miscarriage, premature birth or stillbirth. 
– An early diagnosis of a potentially sick child (such as a malformation) or a medical condition of their own (such as diabetes), or a multiple pregnancy
Mothers may already be under additional stress before or at the beginning of a planned pregnancy. 
Therefore, we have reassembled our team of competent obstetricians, scientists and caring artists and decided to develop and offer creative services for pregnant women for this group as well.
We are happy to report that in the first year of this project (20021-22) the pregnant women were enthusiastic, first evaluations are promising so that we could gather detailed experiences, such as:
– Which music programs are particularly good at building stress resilience ?
– Which non-invasive methods can be used to have an impact? 
We are therefore particularly grateful that the Foundation Berliner Philharmoniker is once again providing us with rooms, top musicians and creative know-how for this project. 
As last year, concerts will be offered on Saturday mornings at four-week intervals in the exhibition foyer of the Chamber Music Hall or in the Hermann Wolff Hall of the Philharmonie Berlin, tailored to pregnant women and their child right from the start of pregnancy. Creative workshops take place approximately every 4 weeks, focusing on gentle dancing and singing together. 
The singing workshop is about experiencing the joy of singing and perceiving the body as an instrument. By working with one's own voice, resonance and breathing, body awareness and well-being are strengthened. Self-sung melodies and songs connect mother and child through sound already during pregnancy and thus become companions into life. 
You will always be accompanied by professional musicians,  singing teachers and medical specialists.
In the dance workshop, we imagine that it will be fun and make you even more aware of the bond with your child, if you possibly experience an intimate community during quiet dance steps. 
The program
The programs for the concerts are selected by musicians of the Berlin Philharmonic Orchestra, coordinated by Raimar Orlovsky (violin). You will also receive a CD with music by Wolfgang Amadeus Mozart to relax at home. 
Dates:
Saturday, December 3, 2022, 11:00 a.m., Hermann Wolff Hall
Research Project "Creativity in Pregnancy": Concert 1 Members of the Berlin Baroque Soloists
Saturday, January 14, 2023, 11:00 a.m., Exhibition Foyer Chamber Music Hall
Research Project "Creativity in Pregnancy": Concert 2 Jelka Weber Flute
Marie-Pierre Langlamet harp
Saturday, February 18, 2023, 11:00 a.m., Exhibition Foyer Chamber Music Hall
Research project "Creativity in Pregnancy": Concert 3 Simon Roturier Violin
Angelo de Leo violin Micha Afkham viola
Saturday, March 11, 2023, 11:00 a.m., Hermann Wolff Hall
Research Project "Creativity in Pregnancy": Concert 4 Bolero Berlin
Saturday, April 22, 2023, 11.00 a.m., Hermann Wolff Hall
Research project "Creativity in Pregnancy": Concert 5 Brahms Ensemble Berlin
Saturday, May 13, 2023, 11.00 a.m., Hermann Wolff Hall
Research project "Creativity in Pregnancy": Concert 6
Trio d'anches

Creative Workshops will take place on five dates in December 2022, January, February, March and May 2023. 
The final concert of the research project with partners and children is planned for September 2023.
Audio examples of the CD: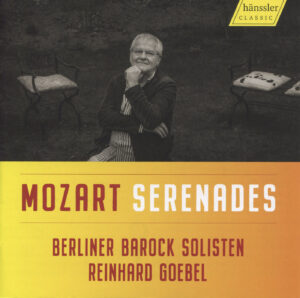 Accompanying text of the compact disk as PDF.
Medical monitoring and evaluation of the project
Before, during and after the courses we will accompany you medically: This will include short and questionnaires to determine how you are feeling, possible recording of your heart rate, recording of your stress resistance (hand placement on a meter only),  saliva mouth swabs and hair sample collections (at the beginning and end of the project only). The latter allows determining long-term stress exposure.
We also ask for your consent in advance to collect your birth data from the center where you deliver, to determine stress parameters and telomere length (a marker of your child's health) from the umbilical cord blood and placenta after birth. Longer questionnaires can be completed online at your leisure at home, shorter ones before or after an intervention on your portable phone. We would also be happy to accompany you after delivery and would also send you a questionnaire about your child's development online at 6 months and 2 years after delivery.
The Foundation Berliner Philharmoniker intends to document the project with pictures, sound and video recordings. Please inform us at the time of registration if you do not wish to be part of such an documentation.
The Philharmonie Berlin has a professional hygiene concept that will be applied depending on the situation.
Integrating art projects into pregnancy and describing the positive effects is a goal of the Clara Angela Foundation, which will provide an evaluation of the data. Finally, it may be important for all pregnant women to learn about the positive impact of music programs on the well-being of expectant parents and their children. Therefore, an experienced clinical team will accompany you on site and during further evaluation.

Conditions of participation
Participation in this study is voluntary without costs. The concerts and courses of the standard program take place in rooms of the Philharmonie Berlin. 
Will my personal data be treated confidentially?
Your personal data (first name, surname and date of birth) will be treated confidentially and stored pseudonymously in accordance with the German Data Protection Regulation (DSGVO). 
At any time, you have the right to obtain information about your data, the correction of data, deletion or restriction in processing, as well as the right to lodge a complaint with the supervisory authority responsible for data protection.
To register please click here: (external link)
For further questions please contact:
Frau Dr. Elisabeth Schalinski
Email: kreativ@clara-angela.info